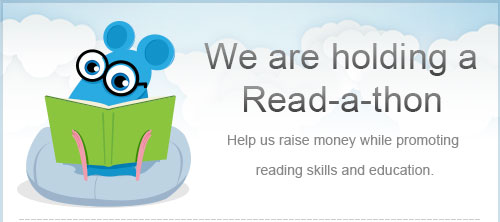 We will be starting on:


2017-11-13
Each year our student's participate in a lively reading adventure that encourages them to read and helps the school raise money for essential in-class supplies and enrichment programs.
How Does It Work?
Students read for pleasure outside of school and use their regular take-home reading log to track time spent reading. All reading at home counts! Simultaneously they invite friends and family to support their reading effort with a donation. That's it!
The single most important step in this fundraiser is to help your child set up their Read-a-Thon page online. We timed it: it takes 3 minutes!  Find your child's secret reader code in the info. packet that was sent home and begin the setup process HERE.
THE READING: Teachers conduct their normal daily 30-minute reading session in the classroom. Students also track additional daily reading at home in their normal reading log and may also do so on their read-a-thon page online. Family read-alouds count for children still learning to read. During the second week of the event, the class from each grade that reads the most wins a pizza party!
THE FUNDRAISING IS EASY: Have your child set up their read-a-thon page TODAY by going to the link and entering his or her secret reader code. In afew simple steps, the process is complete and your child wins a prize from the online store! Additional prizes are earned as donations are made to your child's fundraising page. Be sure to post a link to Facebook so friends and family can donate to your child's Read-a-thon page and leave encouraging notes to fuel their reading! Even overseas friends and family may donate…via PayPal!
         Take 3 minutes to help your child set up their Read-a-Thon page TODAY!